Tax preparer flag, car wash flag, Grand opening Flag, Pizza flag, Barber flag, Swooper, PENNANTS in Youngstown, Ohio For Sale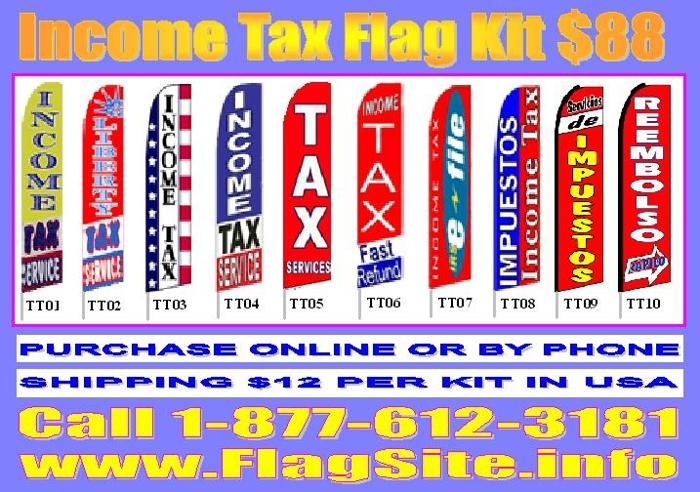 Price: $39
Seller:
Date/Time:01 Feb, 10:23 p.m. EST
Type: Business, For Sale - Private.

Quality products >>> Click The Flag Site THE LARGEST SELECTION OF SWOOPER FLAGS !
All merchandise will ship from The USA
All types of FLAG related products, Stock and Custom made.
Call toll free 1-877-612-xxxx 7 days a week in USA
This is NOT the website CLICK HERE to enter and see all our products.
HABLAMOS ESPANOL
Flags, Sky Dancers, pennants, and Banners for all types of Events
USA, State, and Country Flags
Stock Swooper Flags, Custom Swooper flags
Stock Feather Flags, Custom Feather Flags
Stock beach Flags, Custom Beach Flags
Stock and Custom Flutter Flags
Stock Rectangular Flags, Custom Rectangular Flags
Stock Hotel Flags
Stock pennant Strings, Custom Pennants
Stock Banners, Custom banners
Stock Sky Dancers, Custom Sky Dancers
USA, State, Country, Military and Religious Indoor Flag and Pole kits
Indoor poles, Outdoor poles
Floating Black Jack and Poker Tables
THIS IS NOT OUR WEBSITE, CLICK A >> LINK 7 days a week.
ENTER FLAG WEBSITE HERE
We ship to:

Price: $3,450
Time: 12:13 p.m. EST
Date: 23 May

1995 Honda CB750 NIGHTHAWK
. 1995 Honda CB750 NIGHTHAWK $3495 Call (614) 656-1843 Displacement: 749 cc Vehicle Price: 3495 Mileage: 12758...
Price: $3,495
Time: 02:47 a.m. EST
Date: 23 May
Price: $11,990
Time: 02:40 a.m. EST
Date: 23 May

Time: 02:32 a.m. EST
Date: 23 May

Time: 05:19 p.m. EST
Date: 02 May

Need traffic
Need help in bringing that much needed boost.... Do you find your sales lagging.... There is a solution to your...
Time: 05:19 p.m. EST
Date: 02 May